Just now we were having quite a hail storm! It was really coming down out there. I hope it dries up soon, so that I can start to plant.
In the meantime, I updated the
Gully Brook Press
website. The
latest virtual museum
focuses on the Battle of Saratoga. The
May/June issue of the Nileston News
features a story I wrote in 1985, called
A Day's Thoughts
. Here is a picture of me at about the time I wrote this piece.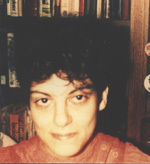 Here are the two dogs I mentioned in the story, on the right, a beagle/schnauzer named Howie (1980-1995), and on the left, a poodle named Penny (1983-1999).