I read in
the paper today that Dale Messick, the creator
of the comic strip "Brenda Starr," died at age 98.
I read the comic strips in whatever newspaper I have (most of the time either the Albany
Times Union
or the Kingston
Daily Freeman
, or less often, the Troy
Record
or East Greenbush
Independent
). Brenda Starr doesn't run in any of those papers, and I understand that others took over writing the strips some years ago. When I was a teenager, it was in the paper I read, and at that time Dale Messick was drawing it. I can't say I was a big fan of the comic, I read them all, but I have my favorites and less than favorites ("For Better of for Worse" has been my favorite for a while, and more recently, I like "Get Fuzzy" a lot too).
In those days I preferred "Blondie," "Peanuts" and "Lil' Abner" to Brenda Starr, but Brenda finally took the plunge in 1976, and after over 30 years at age 23, it seemed like a momentous occasion. My mother often saved newspapers that had historic significance, I remember her keeping copies that had the headlines "Nixon Quits" and a "Ford in Our Future." I kept a scrapbook, and so I cut out the news coverage of Brenda's wedding in the New York
Daily News
.
This morning I dug out the clippings, from 1976: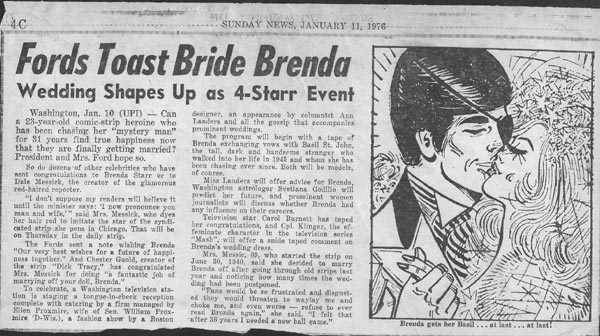 On and off, I write a newspaper for the fictitious town of Nileston (I resurrected it for a while as the newsletter for GBP). When I was a teenager, I was especially prolific, and the paper included many illustrations and spoofs. While I was retrieving my scrapbook I also pulled out the folder with my old efforts, and was delighted to discover my 1977 send-up of Brenda Starr:

Here is
an interesting link
that details Dale Messick's life as an illustrator, as well as her struggle to be accepted in the male world of comics.