I have been finally been using my digital camera. Here are a few pictures taken recently.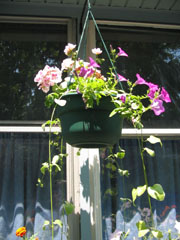 We have four of these hanging from the porch in Castleton. It is a zonal geranium, wave petunia, and vinca in each.
Not a great picture, but new this year, a second vegetable patch in Castleton, down the hill. It has yellow and green zucchini, cucumbers, and green beans.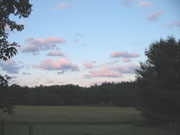 This is the view from the front of the house in Samsonville.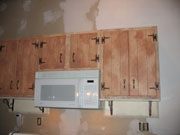 This is what we have been doing on the weekends. The S'ville kitchen is coming! I faux-painted used cabinets.